I tried to post this yesterday, but my internet connection at work was really bad and it was taking forever to load, so I had to wait until today..




I had a bunch of projects that I did within the last few months.. and everything had turned out WAY better than I imagined! My brother had a baby boy the beginning of February, and I made him and his wife a baby album.


This was the album I choose. I found it at Pat Catan's. (which is my favorite place to shop-- even tho there's a Michael's about 5 mins from my house! lol) I wanted to reproduce the bubbles on the front, so I used the single dots from Polka Dot Basics with Spring Rain and Aqua Mist. I did a random pattern on every page, using Aqua Mist for the small and large filled dots, and Spring Rain for the small and large outline dots.
I picked up some paper at Pat Catan's that was similar to Spring Rain, but was on sale for 20/$1 and a bit thinner, so I was able to cut a few sheets at a time. I used Spring Moss as a second border to the similar-to-but-not-Spring-Rain-paper. I die-cutted the tags using the Sizzix tag die, and the Nestie's Label One dies for the embellishments.
This is a close up of the embellishments I used throughout the album. The matte and ink were done with Aqua Mist. I used a variety of baby sayings from both Bity Baby Blessings and Inside and Out: Baby. I was originally going to mix in some images from Baby Button Bits, but found that using even a few buttons would cause the book to expand by double-- so I choose to stick with just the sayings.
This was the first two pages of a 4-page spread. I couldn't make a baby album without highlighting some of the most important moments in a baby's life. The other 2 pages had: first curl, haircut, word, and steps.
This is my favorite page! It was the last 2-page spread in the book (leaving the last page blank for my sister-in-law to add in whatever she liked.) I thought this was a good idea since it's mostly just the first year of a baby's life that really gets documented, and just the birthdays of the other years (not counting special events/outings.) And when he starts school, I'm going to make a school-year album for them, which will take them until high school graduation. (yeah, I kinda plan ahead sometimes lol)
Next, is a card that definitely takes the #1 spot as the best card I've made to date.. I loved it so much that I made a mother's day card almost exactly like it!
On this card, I used both sizes from Delightful Dahlia along with 3 different shades of pink- Sweet Blush, Hibiscus Burst, and Raspberry Fizz.
This is a close-up of the corner, where you can see I used Background Basics: Text Styles in Sweet Blush on white underneith the small flower and leaf from Delightful Dahlia in Hibiscus Burst and Spring Moss. The sentiment (from the same set) is in Hibiscus as well.
This next project is something I did for my mom for her birthday. I found this jar at a local dollar store and thought it'd be perfect for hair supplies! And of course after decorating it, I filled it up with bobbypins, barrettes, ponytail holders, a couple headwraps, and some clips.
Here's a close-up of the lid.
I got to use my new PTI goodies on this one! I *love* Lisa Johnson's new set Just For You and the Mat Stack 2 die. Since there was really nothing in the set for hair stuff, I used the flower from the set in the middle and for a background pattern.
I hope everyone has a great weekend... and thanks for taking the time to look! :)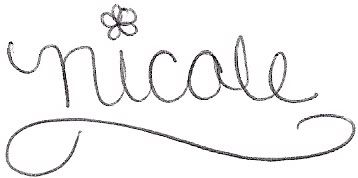 Supplies
(*all PTI unless otherwise noted)
[baby album]
Stamps-
Bity Baby Buttons, Tiny Treats: Valentine, Inside and Out: Baby
Paper-
Spring Moss, Aqua Mist, --non-PTI 12x12 blue and white/8x11 blue
Ink-
Spring Rain, Aqua Mist
Other-
Blue Marker, Nesties' Label One die
Stamps- Delightful Dahlia, Background Basics: Text Style
Paper- Sweet Blush, Raspberry Fizz, New Leaf
Ink- Sweet Blush, Hibiscus Burst, Raspberry Fizz, New Leaf, Spring Moss
Other-
Delightful Dahlia dies
Stamps- Just For You
Paper- Enchanted Evening, Spring Rain, White
Ink- Enchanted Evening, Spring Rain, Versamark
Other-
Mat Stack 2 die, scallop circle punch, martha stewart circle cutter