This is my favorite one so far. (and everyone loves it too!) I used
Flower Soft
for the stocking, to give it that realistic look
and feel
! (and as much as I used, I hardly put a dent in the jar-- I love this stuff!) Since I wanted the main focus to be the middle stocking, I used Versamark for the other two for a watermark-type image.
This is the inside of the card. I was originally just going to stamp the sentiment in Sweet Blush, but when I tried on a scrap piece, it didn't seem to show up as well as I wanted, so I decided to use the Labels One die in Sweet Blush instead. But that just seemed too plain to me when I went to attach it, so i decided to use Versamark again with the stockings for a background behind the sentiment. --I masked the top part of the card, and only stamped on the bottom half.
This is the card I made for my boss. Wednesday was his 5th anniversary of owning the bar and we thought it'd be funny to give him a sympathy card! This one turned out *way* better than I had in mind. I saw this technique used many times before but had never tried it myself- I stamped Text Styles in Versamark, then Giga Guidelines in Fresh Snow ontop- for a two-layered background.
This is upclose of the background and the glitter strip. I placed a strip of Scor-Tape in between two score lines I made, then sprinkled with glitter. My friend, Tricia, told me how to do this.. and I absoutely love it!
Hopefully I can get some more cards done with week before finals next week! Hope you enjoyed! =)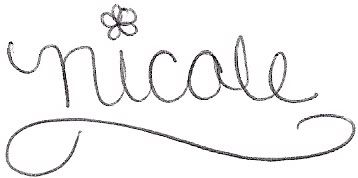 Supplies
[stocking]
Stamps- PTI Stocking Prints, Signature Christmas
Paper- PTI Pure Poppy, Sweet Blush
Ink- Versamark, PTI Pure Poppy
Ribbon- PTI Pure Poppy
Other- Nestabilities Label One diecut, Corner Rounder Punch
[sorrow]
Stamps- PTI Giga Guidelines, With Sympathy, Background Basics: Text Style
Paper- PTI Spring Moss, Stamper's Select White
Ink- Versamark, PTI Fresh Snow, Spring Moss
Other- Nestabilities Label One diecut, Scor-Tape, Glitter